The Golden Menu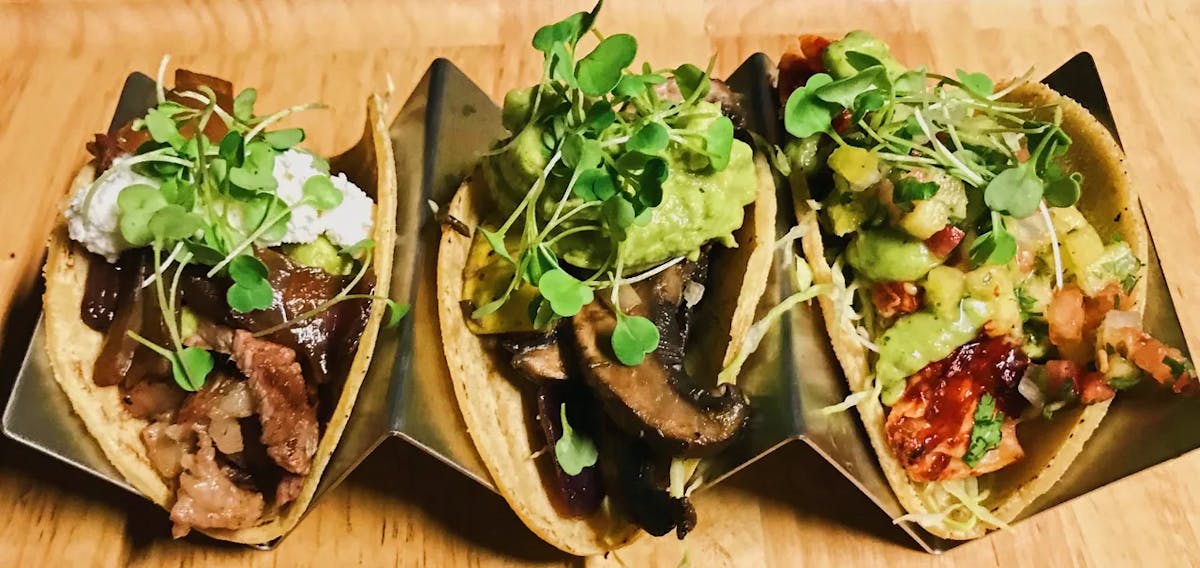 29 August 2022
When creating the menus for Cali Craft Tacos, chef Eric sought to create something with unique and exciting combinations that were both authentic to Mexican cuisine but enhanced by various flavors and techniques. This menu is Chef Eric's modernized take on mexican street tacos mixed with cuisines from all other the world. Utilizing only high-end and fresh products such as ribeye steak and lobster, this menu is full of delicious combinations that have been crafted to perfection for years.
The Golden Taco is a modernized take on a traditional carne asada taco. Using ribeye steak, the taco is topped with hot caramelized onions, zesty avocado relish, and creamy requeson, an authentic Latin cheese similar to ricotta cheese.
Having lived most of his life by the sea, chef Eric pays tribute to this by incorporating the Al Pastor Salmon and Lobster taco to his menu. The al pastor salmon taco uses the tradition al pastor marinade to deepen the flavors of the wild caught salmon. It is then dressed with a pinepple chunk salsa, creamy avocado sauce, and red pickled onions. The customer-favorite Lobster Taco is also a staple. It consists of lobster sautéed with onions and red bell peppers, all laid in a bed of freshly shredded green cabbage which is then topped off with avocado slices, creamy chipotle aioli and cotija cheese.
Chef Eric wanted to give costumers the best of both worlds by creating his Mar y Tierra Taco. Just as the name suggests, this taco is a fusion of land and sea with both top sirloin steak and grilled Cajun shrimp. The powerful flavors of these meats are accompanied by avocado relish, pico de gallo, crema fresca and cotija cheese.
Everyone loves a good carnitas tacos, which is why the Cali Pork Taco is a perfect inclusion to the Golden Menu. Having some Asian cuisine fusions this taco consists of slow roasted pork belly that is topped with a sweet apple slaw, spicy jalapeño relish, and mango sauce.
Last but certainly not least we have the Chicken Taco. This simple yet elegant taco is made up of marinated chicken that is then grilled to perfection. The chicken is then placed in a freshly made quesadilla that is then topped with hot seasoned onions and jalapeño relish.
This unique take on modern Mexican cuisine has become a staple in the San Diego area.